The 10th Ilyo News Cup International Children¡¯s Baduk Championship
Thu Apr 2021 ,4:53pm
9607 views

Tweet
The 10th Ilyo News Cup
International Children¡¯s Baduk Championship
◈ Schedule

◈ Divisions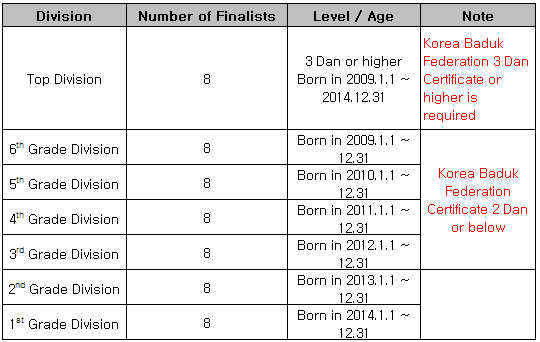 ◈ Eligibility
- Students enrolled in an elementary school or equivalent institution.
- For Top division, 3 dan or higher is required.
◈ Registration
- Registration period: April 15, 2021(Thu) ~ April 30, 2021(Sat)
- Information to be submitted: Name, Date of birth, Grade(in school),
Strength(Dan/Kyu), Country, Internet ID (Name of Baduk website and ID)
*When registration, participants must submit an ID (regardless of the site) with game records that have been played recently.
The submitted ID will be used as a criterion when appealing such as a proxy game, AI cheating, etc. This information WILL NOT be used for any other purposes.
◈ Championship system
- Online Preliminaries
● 1st Preliminary round: 4 player double-elimination(2 players promotion),
(2 wins-promotion, 2 loss-eliminated,the winner between 1 win 1 loss will be promoted.)
● 2nd Preliminary round: Tournament until the selection of the quarterfinals
for each division
- Final Round: Tournament of round of 8
- Time limit: 10 minutes each plus over time 30 sec * 3 times(Even game)
◈ On-line Preliminaries Schedule
- Dates : May 5, 2021(Wed) ~ May 21, 2021(Fri)
- Pairing announcement: After 5:00 pm. May 3, 2021(Mon)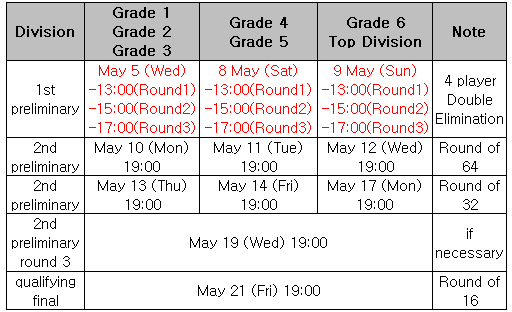 ※ Stated time is GMT+9
- Match information
● Venue: Tygem, Championship Server
● Once players sign in to the Championship Server, a match room
will be set up automatically. Players are not allowed to start a game
on their own.
● Players shall forfeit the game if not showing up within 15 minutes
of the match.
● ID and password will be provided individually.
● In order to prevent cheating, all players are required to record a
video of their match.
(If you do not submit the video, you may have a disadvantage incurred
if any appeal arose.)
● If there is a suspicion about the game, you may file an objection on the tournament bulletin board within 30 minutes after the game is over.
- Online Tournament Notice
● The consequences of personal mistake such as miss-click
or non-designation of dead stones are irreversible.
● Up to 5 times re-connection is allowed in case of internet disconnection.
(The organizer¡¯s decision is final)
● Win by forfeit when the opponent failed to show up in 15 minutes.
● Winners by forfeit must receive the confirmation message before logging out.
● Mobile devices(eg. Tablet, smart phone-Android system) are not allowed. Players must play games through a laptop or a desktop computer(window system).
- Caution!
● If the cheating such as the proxy play or using AI in online qualifying rounds got caught, Sports Fair Committee will conduct that the player will not be able to participate any tournaments until 2022.
*Manual in case of objection
① Report of suspicion occurs (within 30 minutes after the game is over,
the player reports it on the bulletin board of the tournament page)
② The referees review the suspicious game by referring to the submitted previous game records and the recorded video screen of both players.
③ If all the referees make a consensus that there is a problem, the result
is re-determined.
④ Determination of sanctions against the fraudulent player and disciplinary deliberation by Sports Fair Committee will be decided.


◈ Details in Final Round
-Dates : Jun 20, 2021 (Sun) 11:00~
-Location : All That Mind Baduk Stadium (55, Munrae-ro,
Yeongdeungpo-gu, Seoul)
- Round of 8 tournament of each division
- One day before the match, the organizer will draw and announce the pairing on the website.
- All players will play through laptop(provided by organizer).
- Schedule

◈ Awards (Unit: 1,000 KRW)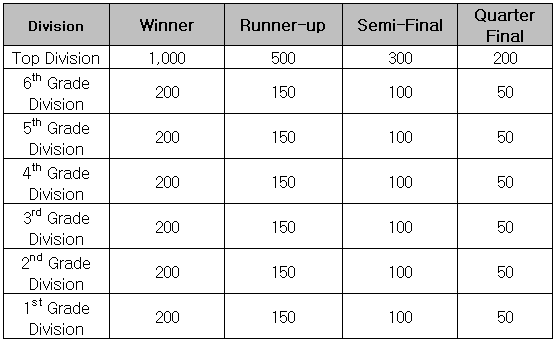 * In each division, the top 4 players will receive trophies and the top 8 players will receive certificates of award.
◈ Co-Host : Ilyo News, Asian Go Federation(AGF)
◈ Organizers : Korea Baduk Federation(KBF), Korea Youth Baduk Association
◈ Sponsor : Korea Sports Promotion Foundation(KSPO)
◈ In cooperation with : Com2ustygem